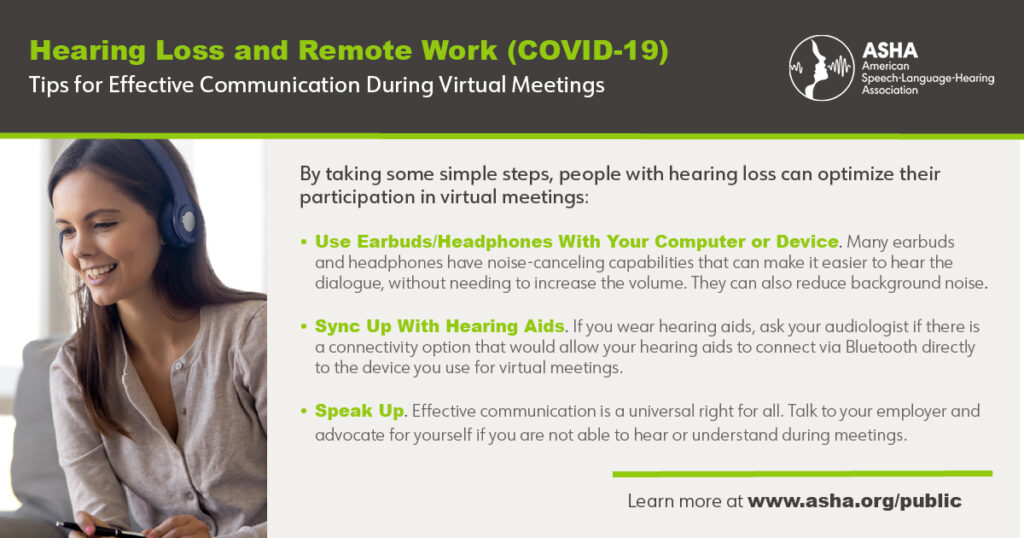 During the COVID-19 pandemic, virtual meetings have become an imperative part of our everyday work lives. Most people, regardless of their hearing ability, experienced new communication challenges while learning to navigate remote meetings. Unfortunately, people with hearing loss are at an unfair disadvantage and often experience an increase in difficulty communicating during virtual meetings with their co-workers.
A recent article by ASHA.org compiled these tips to help everyone communicate more effectively in virtual meetings:
Make Time for Introductions
Use Video
Check Lighting
Keep Your Mouth Unobstructed
Use the Mute Button
Wait Your Turn
Share Your Screen
Record Your Meeting
For people with hearing loss, these additional tips for virtual meetings may be helpful:
Use Earbuds/Headphones With Your Computer or Other Device
Sync Up With Hearing Aids
Speak Up
For more information, click here to read the full article by AASHA.org. If you are already a patient of ours, contact Dr. Engel to address the communication challenges you are experiencing. If you suspect you may be struggling with hearing loss, contact us for a free initial consult and hearing screening.